The Healthy Weight For Life™ Type 2 Diabetes program aims to improve overall diabetes management (eg. blood glucose control, weight, blood pressure, cholesterol) and quality of life.
No cost (100% funded) for eligible members of participating health funds (view details).
The in-home program is suitable for individuals with a body mass index (BMI) ≥ 28 who have type 2 diabetes and are motivated to:
lose around 5-10%
improve their glycaemic control
gently increase physical activity and muscle strength
All the products and tools are delivered directly to the individual's home so the entire program can be done in the comfort of their own home regardless of whether they live in the city or country.
The program has been expertly researched and developed to integrate:
5+% weight loss
Proven to significantly improve insulin sensitivity, glycaemic control, blood pressure, cholesterol, sleep apnoea and overall cardiac health.
Lower body strength
Targeted lower body strength exercises to help improve insulin sensitivity of the muscles, increase endurance, improve mobility and general well-being.
Gentle exercise plan
Gentle exercise such as walking improves physical function, assists weight maintenance and promotes general well-being.
Risk factor management
Targets key elements of your diabetes annual cycle of care to help keep your diabetes care on track

Digital member hub
A secure personal web portal to track progress, access great resources and message your support team.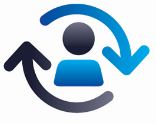 Monitoring and support
A specialised healthcare team, including a diabetes nurse and pharmacist, to provide support and guidance via phone, SMS, email, private online message board and post.
Unlimited phone, sms, email and personal message board access to the specialised allied health Care Support Team (view details).
All the resources you need to do the program will be posted out to you at no cost (following the approval from your health fund).

* Clinical and policy eligibility criteria apply. Waiting periods apply.